The new Bing brings right content on the fly saving users time in finding answers to their search queries. It's backed by ChatGPT latest version GPT-4 that understands and writes content against the user query.
Available only for Microsoft Edge browser, ChatGPT comes into action as you type-in a query and collaborates with Bing to get all relevant information. It then uses its capability to write content for you.
This content looks like a summary at the sidebar of the browser and saves user time by omitting the need to go-through each search result.  
Bing also places a list of sources at the end. For example, it mentions the sites of images and text. Users can visit the source of the information to read content in detail.
This is just a perfect solution for a web search.
How can you use Edge's new tech in your job?
 It's quite a fact that information gathering is a tough thing to do especially if your job requires knowledge hunting and content creation.
There are pretty dull results of web pages on the internet that are full of difficult content. This content is not easy to visualize and oftentimes does not state the answer to your query. Thus, you are forced to visit tens of webpages to find just the accurate information for you. 
Fortunately, the ChatGPT model has been pretty good at generating content that's to-the-point and easy to understand. It creates a well-structured answer that's also suitable for people who are not experts in the field.
That's a plus of Edge now, as it shows insightful summaries of content that's fetched from Bing. So you don't have to spend hours searching for just the right content for you.
Just type-in your query and wait for the Bing window to popup at the sidebar. You'll confess it's really helpful and saves your time reaching something that can work for you.
Before you go to the Edge, make sure you've joined the new Bing waiting list. It just awaits one click to unveil the new Bing feature.
Examples of new Edge in action
Query

: 

Tell me about the death of mughal emperor Babar Mirza.

Here's what Bing responded:
Babur Mirza died on December 26, 1530, in Agra at the age of 47. According to legend, when his son Humayun became deathly ill, Babur is said to have offered his life to God in exchange for Humayun's, walking seven times around the bed to complete the vow. Humayun recovered and Babur's health declined, and Babur died the same year. His remains were first buried in Agra but, as per his wishes, his remains were moved to Kabul and reburied.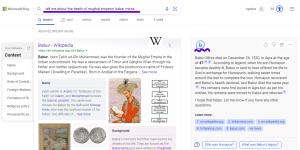 Note how the top search results couldn't fetch an answer to the query whereas Bing immediately finds answer to the query. 
This is just a perfect example of how the new Edge could be is a useful tool for content hunters and creators.
Microsoft believes it's finally competing with Google
Microsoft has been very candid when its CEO Satya Nadella said "For 13 years now, Microsoft has tried to get you to use Bing, but you didn't want to," on the announcement day on February 7, 2023 
All these years, Bing saw its global market share in the low single digits. But now, as the company is investing in AI tech platforms such as OpenAI, the scenario is changing.
Bing is now beating Google as the new browning choice of users. It solves the key issues in search such as the effort required to reach a perfect answer. 
The use of a chatbot that quickly does the search work for the user is a sure way towards higher market share.